"Weeplets are squishy, gelatinous Mogas that derive most of their nutrients from the seafloor."
--Moga Dex, Monster Galaxy

Profile Page
Edit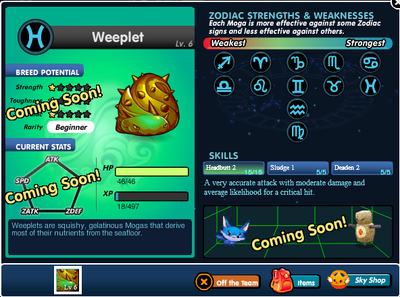 Zodiac: Pisces
Rarity: beginner
Warmwood Trail
Sandswirl Beach
Bushfall
Sandswirl Shrubwalk
Mangroove Shallows
Shellstone Beachfront
Shellstone Lighthouse
Sandswirl Tidal Pool
Normal Attack
Edit
Zodiac Attack
Edit
Special Attack
Edit
Zodiac Strengths and Weaknesses
Edit
3x Super Effective
Edit
2x More Effective
Edit
1x More Effective
Edit
Capricorn
Gemini
Aquarius
Virgo
2x Less Effective
Edit
3x Less Effective
Edit
Ad blocker interference detected!
Wikia is a free-to-use site that makes money from advertising. We have a modified experience for viewers using ad blockers

Wikia is not accessible if you've made further modifications. Remove the custom ad blocker rule(s) and the page will load as expected.