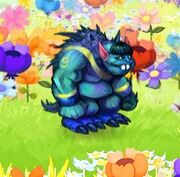 "Evolving from the small, playful Dinho, Ronal trades in quickness for sheer power."
If we combine the Ronal and Dinho names, we get the name of famous footballer Ronaldinho.
Rarity: Uncommon
Zodiac: Virgo
Statistics:
Edit
Attack: 1
Defense: 3
Method to obtain:
Edit
Ronal can be evolved from 3 Dinho's and 2 Evolution Potions.
Physical: Kick / Roundhouse
Zodiac: Long Ball / Power Punt (Confuse)
Special: Zodiac Strength
Ad blocker interference detected!
Wikia is a free-to-use site that makes money from advertising. We have a modified experience for viewers using ad blockers

Wikia is not accessible if you've made further modifications. Remove the custom ad blocker rule(s) and the page will load as expected.