Ricky is met at the Gates of Pueblonia. He plays a minor role (you only see him once), but he tells you about the
child sultan
and his
advisor.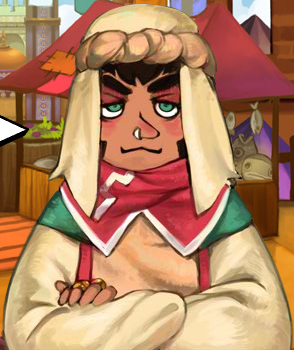 Battle Info
Edit
You do not battle Ricky
Ricky: Greetings, stranger! Is this your first time in Pueblonia?
You: Yeah, I came from the other side of Poseidon's Gorge.
Ricky: Boy howdy are you in for a treat! Did you know that Pueblonia is the most rectangular city in the world? We also have the most diseased vermin! I could go on all day listing Pueblonia's superlatives. One thing you need to know: our child sultan is crazy about Moga taming. I mean, this kid has Mogas coming out his ears. Tough ones, too. To even challenge the sultan, you'd have to defeat his guards at the Parapets of Dawn and Prince's Perch. Plus, rumor has it that he's controlled by his cruel advisor, Kareem Abdul. But you wouldn't be crazy enough to fight the sultan when you could just leave peacefully, so I don't know why I'm telling you this. Take it easy!
Ad blocker interference detected!
Wikia is a free-to-use site that makes money from advertising. We have a modified experience for viewers using ad blockers

Wikia is not accessible if you've made further modifications. Remove the custom ad blocker rule(s) and the page will load as expected.