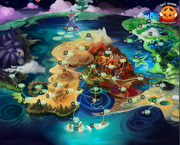 Pueblonia is the second map after Sunshire. It must be unlocked by reaching Lombards Rafting Inc , which is at the bottom of the Sunshire map.
List of Pueblonia Locations (Incomplete)
Edit
Titans Staricase
Electrotter sound
Fingerland Point
Cape Fang
Portal o Ruins
Otterdam
Ottos House
Sinalta Plaza
Sinalta Field
Biting Coast
Sandshard City
Surf City
Sanctuary Isle
Talonsweep Point
Citadel of Prophecy
Citadel Entrance
Fatewater
Evergreen Terraces
Rogues Rendezvous
Sandsink
Rude Dunes
Sandtown
Lobster Tornado
Pueblonia City Gates
Great Bazaar
Super Bazaar
Parapets of Dawn
Princes Perch
Royal Battledome
Ad blocker interference detected!
Wikia is a free-to-use site that makes money from advertising. We have a modified experience for viewers using ad blockers

Wikia is not accessible if you've made further modifications. Remove the custom ad blocker rule(s) and the page will load as expected.