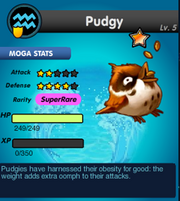 Pudgy is a Moga under the classification of Aquarius.
Description
Edit
Pudgies have harness their obesity for good: the weight adds extra oomp to their attacks.
Super Rare
Tank
Bodyslam / Piledriver: A somewhat with high damage and poor chance for a critical hit.
Seedbeat / Chirrup: Zodiac Attack
Shield of Thorns: Chance of damaging your enemy when you get attacked
Random Ability: Stoneskin (Increased max HP)
Locations
Edit
Spiral Path
Gertrude's House
Ad blocker interference detected!
Wikia is a free-to-use site that makes money from advertising. We have a modified experience for viewers using ad blockers

Wikia is not accessible if you've made further modifications. Remove the custom ad blocker rule(s) and the page will load as expected.