Nightmare are horses that are available as starter mogas. They are quite popular mogas, due to their appearance and attacks. They have a mane and tail of fire and even fire on their hooves, with red eyes and brown coat. Mogadex Entry:
"The Dream World gives rise to many strange creatures, and Nightmares are the most feared of them all."
Rarity:epic
Zodiac: Saggitarius
Kick (1-3) --> Roundhouse
Glowing Rainbow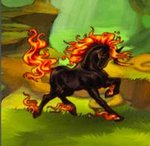 Strength (1-4)
Vulnerability (random ability from using glowing rainbow)
Locations Found:
Available as starter
Rogue Rendevous
Sandsink
Rune Dunes
darkwood
Ad blocker interference detected!
Wikia is a free-to-use site that makes money from advertising. We have a modified experience for viewers using ad blockers

Wikia is not accessible if you've made further modifications. Remove the custom ad blocker rule(s) and the page will load as expected.