Save a Kittenstar and put it in your pocket, save it for the rainy day.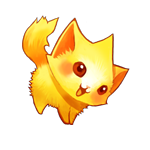 Sign: Leo Class: Striker Attack: 3.5 Defense: 1.5 Rarity: Rare Location: You can buy a level 10 Kittenstar for 50 Moga Cash. Promotion from May 24th- May 30th 2011. When you buy a Kittenstar you get to give one Level 3 Edgar to a friend.
Physical Attack: Punch Upgraded Physical Attack: Uppercut
Z-Attack: Shooting Star
Special Attack: Healing Shield
Ad blocker interference detected!
Wikia is a free-to-use site that makes money from advertising. We have a modified experience for viewers using ad blockers

Wikia is not accessible if you've made further modifications. Remove the custom ad blocker rule(s) and the page will load as expected.