"The elusive Jag is used to surprising others. It's perplexing form allows it to do it as well as on land as it does in the water, though obviously it prefers water. When tamed, Jags are extremely friendly, and love it when their bellies are rubbed." - Moga dex.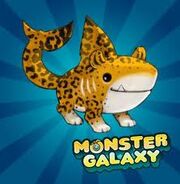 Jag is a Pisces Beginner Moga who looks like a crossbreed between a jaguar and a shark. Currently it can be capture in Sandshard Islet and Surf City on the new map.
RARITY: Uncommon
PHYSICAL ATTACK:
ZODIAC ATACK:
SPECIAL ATTACK:
Deaden
heak tool fry dary muhammad fariq ghiffary
RANDOM ABILITY:
3x SUPER EFFECTIVE:
2x MORE EFFECTIVE:
MORE EFFECTIVE:
Cancer
Capricorn
PISCES
Scorpio
LESS EFFECTIVE:
2x LESS EFFECTIVE:
Ad blocker interference detected!
Wikia is a free-to-use site that makes money from advertising. We have a modified experience for viewers using ad blockers

Wikia is not accessible if you've made further modifications. Remove the custom ad blocker rule(s) and the page will load as expected.