"The elusive Jackalope combines the best features of the Antelope and the Jackrabbit. The fact that its name sounds like a combination of the two is just a coincidence."
-- MogaDex, Monster Galaxy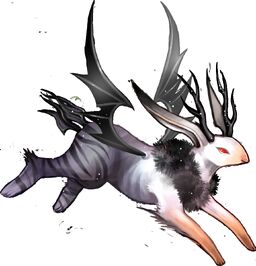 Jackalope was released on April 21st 2011 for Easter celebreation. Besides Jackalope, Devibun and Four robo-bunnies (Friedrich, Prototype Zero, Beaster, Metal-ear) are also added for the Easter Egg Hunt.
Its devilish appearance assembles that of Devibun, but is more elegant with fully grown black wings and antelope horns. Jacklope is really a rare Moga to your team. Join the Easter Egg Hunt and catch one, tamers!
Profile PageEdit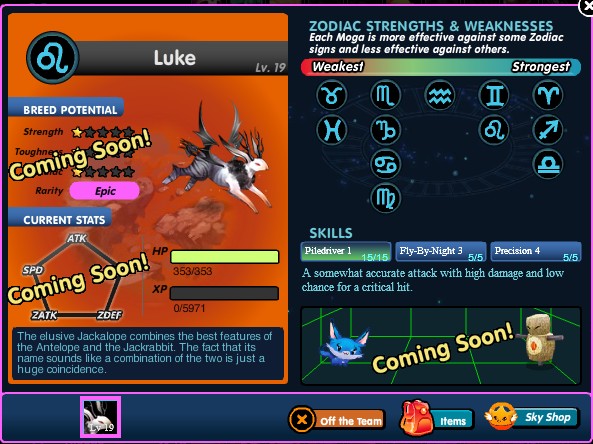 Physical AttacksEdit
Bodyslam
Piledriver 80%, 15% CT rate (leveled)
Zodiac AttacksEdit
thumb|300px|Jackalope Fly-By-Night
Flicker Flame 90%, 35% CT rate (leveled)
Special AttackEdit
Precision (Increased chance of scoring more Critical Hits)
Random AbilityEdit
Healing Shield (Increases your chance recovering HP back when you get attacked)
west summer road Jackalope
About the questEdit
You need to catch a Devibun prior to receive the Jackalope quests. The Jacklope quests include two phases, and in the first phase you need to collect 100 easter eggs.
The level of a Jacklope equals the highest level in your team with a upper limit of 20.
Easter Egg PatternsEdit
15 pluses 100 eggs isn't a small amount, turn to your friends for help and accelerate your pace!



Facebook Fun PageEdit
More pictures on this website!
Ad blocker interference detected!
Wikia is a free-to-use site that makes money from advertising. We have a modified experience for viewers using ad blockers

Wikia is not accessible if you've made further modifications. Remove the custom ad blocker rule(s) and the page will load as expected.