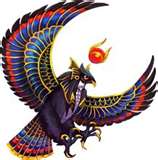 Horus is a hawk like Moga that is based off the Egyptian God, Horus. It is obtainable by using 100 coins in Monster Galaxy: Zodiac Islands.
These hawks are used to hunt vipers and return truant children to school, where they belong.
Zodiac:Cancer
Class:
Attack:3.5
Defense:1.5
Rarity:Rare
Location: Evolution
Skills: Physical Attack: Kick
Upgraded Physical Attack: Roundhouse
Zodiac Attack: Violent Descent
Upgraded Zodiac Attack: Whirlwind
Special Abilty: Armor
Evoled from: Munnin
Evolves to: Garuda
You will need 3 horus to evolve to garuda(not sure how many evolution potions you need yet)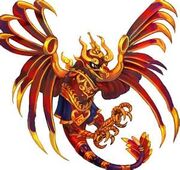 Etymology
Edit
The Horus is based on the ancient Egyptian sky god, 'Horus'. The base word for the name is from the ancient Egyptian hieroglyphs of 

Ḥāru which means 'falcon'. And similar word derivation from the notable 

Hōr which has been adopted from the ancient Greek word 'Hōros'. The name is later survived the Egyptian callings as "Har-si-ese" that is 'Son of Isis'.
Although that Horus is honestly based on the ancient Egyptian god 'Horus', they possess no torax nor abdomen of a man, hence the Horus has 
Ad blocker interference detected!
Wikia is a free-to-use site that makes money from advertising. We have a modified experience for viewers using ad blockers

Wikia is not accessible if you've made further modifications. Remove the custom ad blocker rule(s) and the page will load as expected.