Gertrude is Lyle's girlfriend. She looks like she often snacks; she wears glasses, food, and a tomato bag that looks remarkably different than the one in the picture that Lyle gave her.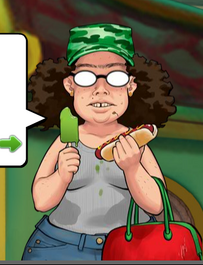 Battle Info
Edit
You do not battle Gertrude, though she does send you on the quest " ".
You: Is Gertrude here?
Gertrude: HAWWWH? I'm Gertrude.
You: Ah. I see. Is there another Gertrude here?
Gertrude: HAWWWH? I'm the only Gertrude in Windhym.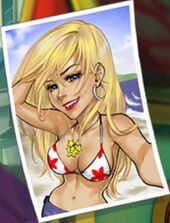 You: Are you sure? Lyle showed me a picture, and—
Gertrude: Ohhh, Lyle! I miss him so much… how is he!?
You: He's fine. He wanted you to have this package.
Gertrude: O…M…G… Look what he sent me! A framed picture of himself and some chocolates! Lyle is the coolest guy in the world! Siiiiiiiigggghhhhhhh.
You: He sure is… something.
Gertrude: I feel like I've known him forever! We've been in a long-distance relationship for almost 3 months! Anyway, I want you to do something nice for him. A friend of mine is trying to get a beautiful crystal from a cave somewhere in the valley for her BF. I want YOU to get it before she does, and give it to Lyle for me.
You: I think I can do that…
Gertrude: It was nice meeting you! I'm going back to FB to write a hot message on Lyle's wall! Tell him he's the kyuuutest! Byee!
Ad blocker interference detected!
Wikia is a free-to-use site that makes money from advertising. We have a modified experience for viewers using ad blockers

Wikia is not accessible if you've made further modifications. Remove the custom ad blocker rule(s) and the page will load as expected.