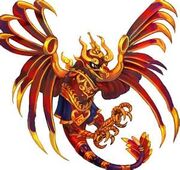 Garuda's taloned wings let it shred its enemies, and its fluffy tail lets it tickle its friends...
Zodiac:Aries
Class:Tank
Attack:2
Defense:4
Rarity: Super Rare
Location: Evolution
Skills:
Physical Attack: Kick
Upgraded Physical Attack: Roundhouse (15+ lvl)
Zodiac Attack: Brazen Claw
Upgraded Zodiac Attack: Eternal Eagle (15+ lvl, Confuse)
Special Abilty: Stoneskin
Evolution: Munnin~>Horus~>Garuda
Ad blocker interference detected!
Wikia is a free-to-use site that makes money from advertising. We have a modified experience for viewers using ad blockers

Wikia is not accessible if you've made further modifications. Remove the custom ad blocker rule(s) and the page will load as expected.