Faust is an "Uncommon"  Virgo Moga
It evolves into Gocon with the use of five Faust's
It is one of the starting Moga's of Virgo
Appearance
Edit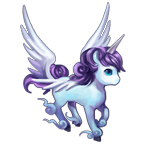 Faust is a quadruped moga that looks like a little pegasus with large strong broad white wings to suppport its body weight, it has a silver coloured horn probably used to defend itself with, it has a luschious purple mane and tail that ressembe locks of hair the tail's tips turn white, it has grey hooves and wispy fur by the feet and it has deep blue eyes.
"Fausts fly around catching up on the latest Moga gossip, which they love to share with friends."
Game Locations
Edit
Faust can be found in these locations:
Punch (Phys. Atk.)
Uppercut (Phys. Atk. upgraded)
Gusting Wind (Zodi. Atk.)
Swirling Gale (Zodi. Atk. upgraded)
Deadeye (Sp. Ability)
Evolution
Edit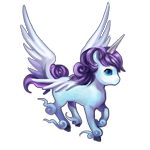 --------------------------------------------------------------->>>>>>>
Evolve using five Faust
Faust is an Uncommon Moga
These Mogas are "Balanced Mogas" as their attack is the same as its defense.
Attack: 2 Stars
Defense: 2 Stars
Ad blocker interference detected!
Wikia is a free-to-use site that makes money from advertising. We have a modified experience for viewers using ad blockers

Wikia is not accessible if you've made further modifications. Remove the custom ad blocker rule(s) and the page will load as expected.