Ad blocker interference detected!
Wikia is a free-to-use site that makes money from advertising. We have a modified experience for viewers using ad blockers

Wikia is not accessible if you've made further modifications. Remove the custom ad blocker rule(s) and the page will load as expected.
"A rare hybrid, Diabao combines the spendor of a light imp with a devilish attitude of a dark imp."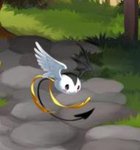 --Moga Dex, Monster Galaxy
Location
Lobster Tornado
Physical Attack
Zodiac Attack
Special Attack
Poison (Inflicts damage to opponent every turn)

Random Ability
Precsion (Improved Chance of scoring critical hits)