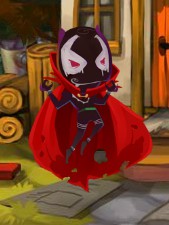 "One of the infamous Black Katanas. Chidi uses powers of illusion and misdirection to weaken foes."
Rarity: SuperRa
Zodiac: Pisces
Statistics:
Edit
Attack: 4
Defense: 2
Method to obtain:
Edit
Chidi can be obtained during completing Fredic's quest. Only during special event.
Physical: ? / Head Slam
Zodiac: Shadowdust
Special: Zodiac Vulnerability
Ad blocker interference detected!
Wikia is a free-to-use site that makes money from advertising. We have a modified experience for viewers using ad blockers

Wikia is not accessible if you've made further modifications. Remove the custom ad blocker rule(s) and the page will load as expected.