"Blixes were once really boring creatures until fate intervened and made them extraordinary. Lighting turned a litter of baby Blixes into a race of electro-charged dynamos. It also fried the part of their brains that regulates drooling." - Moga Dex Entry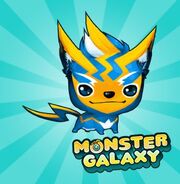 Pueblonia Map
Edit
Sinalta Field
Fatewater
Portal 'o' ruins
Otter dam
Biting Coast
Blix is also a starter Moga. win
Monster Galaxy: Zodiac Islands- Able to be caught at Frosted Skyland on Libra Island.
3x Super Effective
Edit
PHISYCAL ATTACKEdit
ZODIAC ATTACKEdit
Static Shock (Lv.1-Lv.14)
Ball Lightning (Lv.15+)
SPECIAL ATTACKEdit
RANDOM ABILITYEdit
Etymology
Edit
Blix is a modified word of 'blitz' which is in spanish for 'lightning.
Ad blocker interference detected!
Wikia is a free-to-use site that makes money from advertising. We have a modified experience for viewers using ad blockers

Wikia is not accessible if you've made further modifications. Remove the custom ad blocker rule(s) and the page will load as expected.