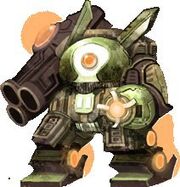 "This Robo-bunny is all stick and no carrot."
-Moga Dex Entry
Appearance
Edit
It is a navy-green Robo-bunny with orange lights, a cannon on it's left hand, and a triple bazooka on it's right hand. It seems to be wearing a metal, black backpack.
It can appear anywhere on the map as long as it's still the Easter event.
This Moga is immune to Starseeds and cannot be captured
You can buy Beaster for 50 Star Coins if it's still the Easter event
Ad blocker interference detected!
Wikia is a free-to-use site that makes money from advertising. We have a modified experience for viewers using ad blockers

Wikia is not accessible if you've made further modifications. Remove the custom ad blocker rule(s) and the page will load as expected.