"Azurel is a dangerous creature, to be sure, but capturing one is seen as a sign of very good things to come."
Profile Page
Edit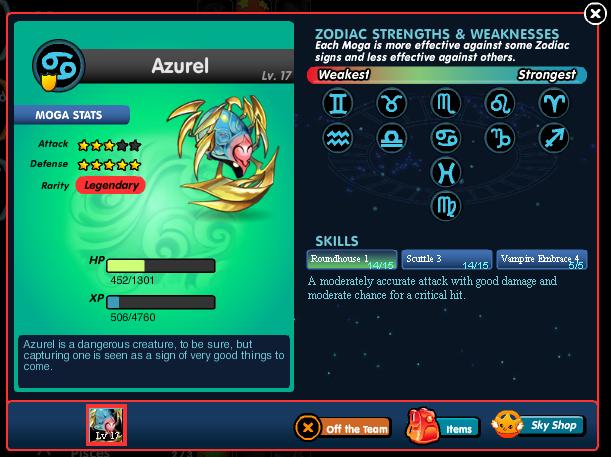 Zodiac: Cancer
Rarity: Legendary
Physical Attack and LeveledEdit
Kick (1-3)
Roundhouse (Leveled)
Zodiac Attack and LeveledEdit
Scuttle (1-3)
Gadgetwalk (1-?)
Special AttackEdit
Vampire Embrace (Gain health from successfully attacking your enemy.)
Zodiac Strengths and Weaknesses
Edit
3x Super EffectiveEdit
2x More EffectiveEdit
1x More EffectiveEdit
Scorpio
Cancer
Pisces
Virgo
2x Less EffectiveEdit
3x Less EffectiveEdit
Catching Azurel is the last part of the Fishermens' Quest at Dungeness Dock.
--Moga Dex, Monster Galaxy
It's name "Azurel" sounds like "Azurill" from Pokemon
Ad blocker interference detected!
Wikia is a free-to-use site that makes money from advertising. We have a modified experience for viewers using ad blockers

Wikia is not accessible if you've made further modifications. Remove the custom ad blocker rule(s) and the page will load as expected.